22 Septem­ber 2022 — 23 Septem­ber 2022
In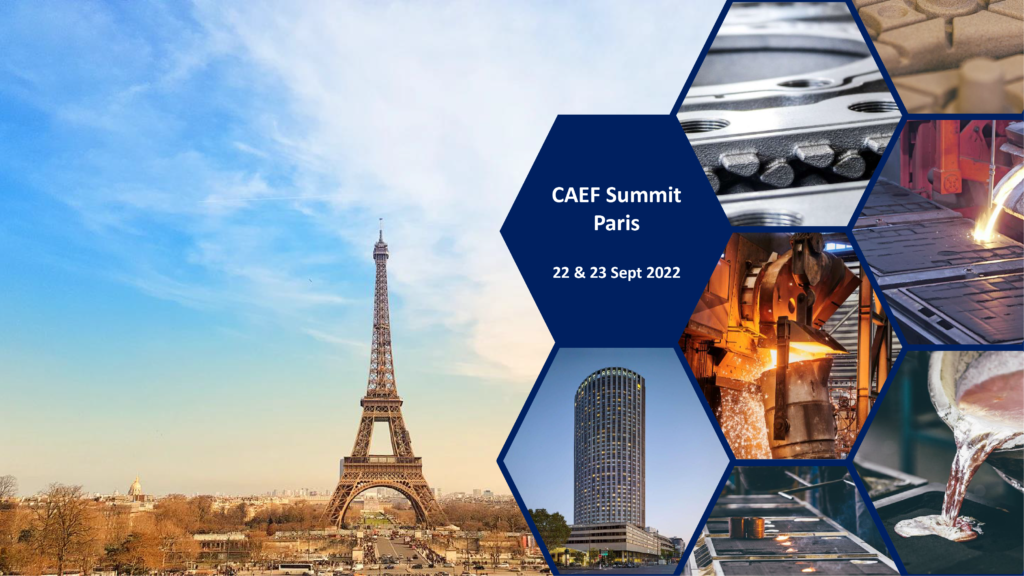 The CAEF cor­di­ally invites you to attend a major event for the European Foundry Industry.
The CAEF European Foundry Sum­mit, presen­ted by Car­bones Hold­ing GmbH, will reunite the CEOs, Gen­eral Man­agers, and the mem­bers of CAEF Groups and Sec­tions of the foundry industry.
This unique event will be an excel­lent oppor­tun­ity for net­work­ing and for par­ti­cip­at­ing in con­fer­ences on import­ant sub­jects for the future of our industry.
Spe­cial pro­gram update I/II: Prior to the offi­cial event pro­gram, we offer a site excur­sion at AGCO in Beauvais. (to register please sep­ar­ately con­tact marion.harris@caef.eu)


Spe­cial pro­gram update II/II:
Apply now for the first EUROPEAN FOUNDRY WOMEN'S AWARD. Sub­mitt your applic­a­tion to tillman.vandesand@caef.eu and become a role model for thou­sands of young talents!
European Foundry Womens Award Announcement
Event inform­a­tion
Date: 22 — 23 Septem­ber 2022
Event loc­a­tion: Hyatt Regency Paris Etoile, France
Regis­tra­tion: Please click here to register CAEF Sum­mit 2022
Par­ti­cip­a­tion fee: 350 EUR/pp
Site Excur­sion: For regis­tra­tion please con­tact marion.harris@caef.eu
Accomodations:
Hyatt Regency Paris Etoile (Rooms dir­ectly in the event loc­a­tion. There is no spe­cial room rate for the CAEF Sum­mit agreed with the hotel, please book individually.)
Pro­gram
CAEF Con­tact:
Dr. Fynn-Willem Lohe
Sec­ret­ary General
phone: +49 211 68 71 — 277
mail: fynn.lohe@caef.eu